Make Life Yummy
Battle Ground Sweet Potato Queens
Contribution - Always Give Back
Community Participation
Queen Outrageous and her Spud Stud husband started a great Halloween gig at their house in 1997. Now a Queen is not one to turn down a public appearance, so Halloween of 2002, the Battle Ground Sweet Potato Queens joined the fun. Seeing the number of people that had to be planned for in order to accomplish this gig made us think that we could put the crowd to good use. With a motto of "Make Life Yummy" what better fit than to collect food for the
North County Food Bank
. Our Halloween has gone to unbelievable heights and so have the crowds. 2009 proved to be our most rewarding and fun year yet. The Queens, Princesses, and friends entertained over 1,000 people by doing Michael Jackson's "Thriller" dance for three hours. (
see video
)
To date, we have raised over 2,000 lbs of food and over $700 in cash for the food bank and we are very grateful to the people who have supported us.
After winning First Place for Best Community Float and Peoples Choice in the
Rose Festival
Starlight Parade 2009, we received a phone call asking us to join a group in the Rose Festival's
Grand Floral Walk
. This is a fund raiser for the
Dougy Center
that happens right before the Grand Floral Parade. Beings how we love all the little children, we made our required donation and attempted something we never do as Queens.
Walk
. The event happens on the route the Grand Floral Parade takes and who could pass up a chance to strut their stuff in front of 500,000 people after just experiencing the 250,000 that go to the Starlight Parade?! Many of the announcers and parade goers remembered us from the week before, which made the crawl on our hands and knees across the finish line (two of the queens dang near had the parade police riding them) well worth being a part of this great event.
Reaching Out For Others
When Katrina happened
The Habitat for Humanity
had a frame building event at the Portland Convention Center. We missed the building part, due to the fact we were on Queen time, so donated some $ in the name of the Battle Ground Sweet Potato Queens, cause we got to sign our names on one of the house frames. Somewhere in Louisiana or Mississippi there is a family living with our blessing. We can think of others occasionally.
A friend of a couple of the queens was dealing with breast cancer. The
Komen Breast Cancer Walk
was coming up and we decided to do the walk in her honor. Her co-workers, friends and family joined us in raising money and participating in the walk. All donned boas, tiaras and sunglasses, which were needed really from the party at the hotel the night before, and paraded through downtown Portland. Diva-ing it up to the amusement of the people around us and a few TV stations, our girl made the evening news with some of the queens. The walk didn't seem too hard cause with the amount of people participating we didn't move too fast. There were frequent resting breaks, otherwise we would have known for sure not to attempt the above walk. We hadn't seen our girlfriend for a long time since she moved away, but we ran into her at the Rose Festival Walk. She is back but so is her cancer.
Make Life Yummy
These are just a few stories to let you know as a group we are supportive of those around us. We are not registered as a non-profit or associated with any other organizations, except the Original
Sweet Potato Queens®
, so all we do comes out of those tiny little purses we carry about. What we want you to know is that every little bit counts to someone.
Plus, you can turn anything into a Diva experience. That tiara just calls to be worn and it makes you do things just so you can strut around in it. Yummy is more than a taste it is an experience.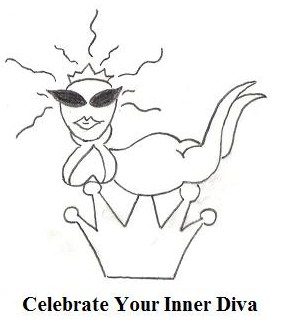 Go to the Top